In recent weeks, Japanese telecommunications operator KDDI, commercial drone manufacturer PRODRONE, and underwater robotics firm QYSEA unveiled the world's first 'Sea-Air Integrated Drone' during a flight showcase at the Hakkeijima Sea Paradise in Yokohama. The revolutionary drone aims to modernize offshore and marine operations with its intelligent capabilities, high working efficiency, and minimized manpower required.
World's first Sea-to-Air integrated drone by QYSEA & KDDI
A Joint Collaboration & Breakthrough in Drone Technologies
The world's first sea-to-air drone is jointly manufactured by telecommunications operator KDDI and underwater robotics manufacturer QYSEA Technology, featuring the combination of a heavy-duty aerial drone and QYSEA's industrial-class FIFISH PRO V6 PLUS ROV. This ambitious project had been set out by KDDI six years earlier, who had sought to combine advanced mobile communication networks with drone technologies that would deliver extended flying distances and lengths.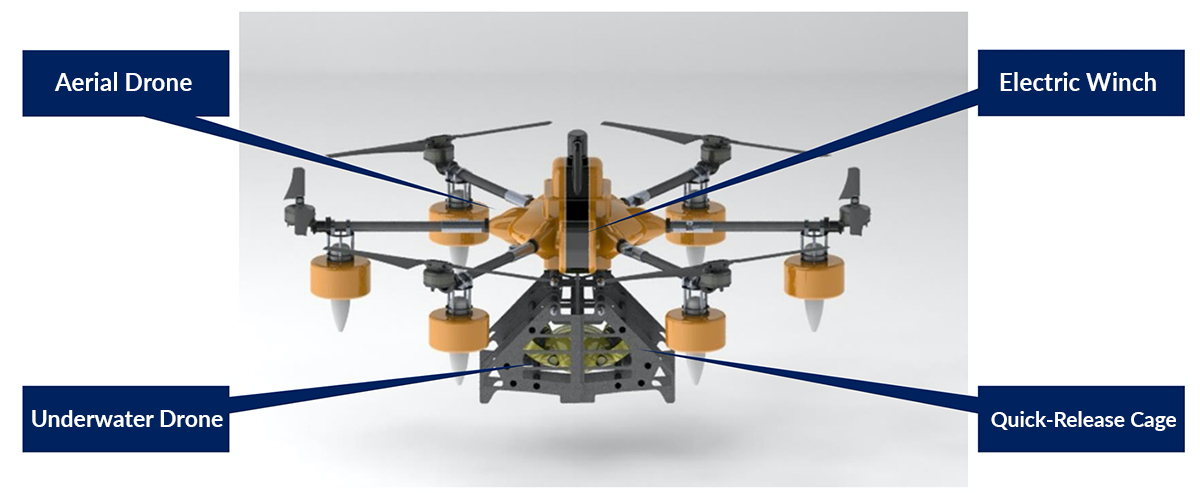 Main elements & compartments of the Sea-Air Integrated Drone
Seamless Operation from Land, Air & Sea
The technological achievement between KDDI and QYSEA has resulted in the first commercial drone capable of operating seamlessly through land, sea, and air. Through long-range mobile communications, the drone is operated remotely to fly to its preset route at sea. After landing at its designated location, the FIFISH ROV is released and deployed to work.
The pilot is then able to remotely operate with the ROV from a safe working location, and perform a variety of inspection, maintenance, and repair work underwater.
Visual reference of operations by the Sea-Air Integrated Drone
Elevating Upon Traditional Methods
Traditional and widely-used methods in underwater inspections often involve challenges with time, energy, monetary costs, and human risks, where workers would need to use boats to drive out to offshore platforms and make multiple dives for their inspections.
The KDDI and QYSEA jointly-developed 'Sea-Air Integrated Drone' provides a breakthrough within remote marine-based operational work. Without the need to leave their onshore working location, the operator can deliver inspections with real-time visual feedback and operate through underwater environments with a variety of sampling, measurement, and manipulation tools, as well as be able to live-stream operations for multi-person collaborations.
The Sea-Air Integrated Drone takes off on its preset route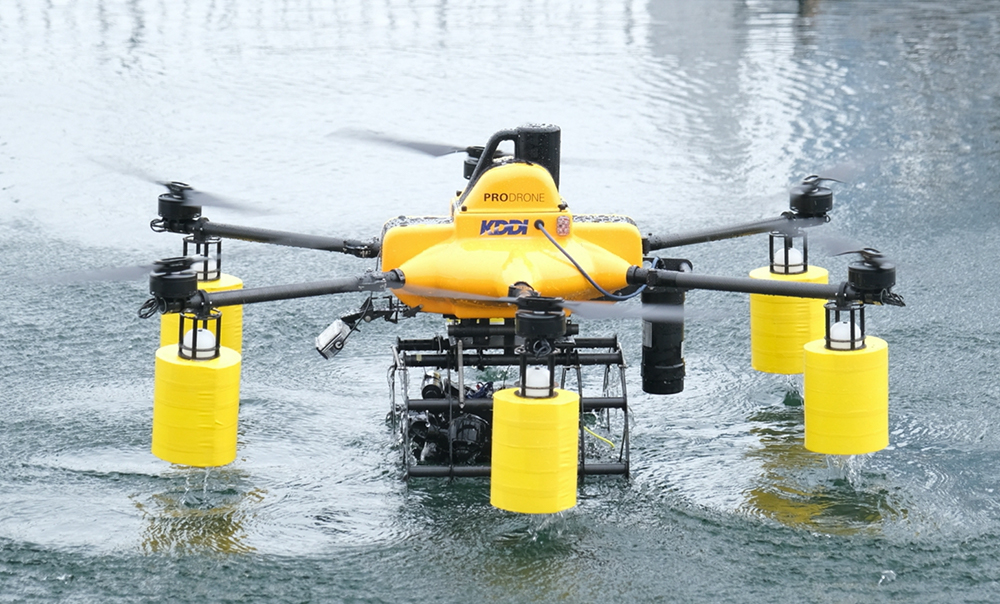 The Sea-Air Integrated Drone lands onto the waters before the FIFISH ROV is deployed
Essential Marine-Based Applications
The 'Sea-Air Integrated Drone' has shown it will have far-reaching applications across the various marine-based industries. In offshore wind power, the drone can be deployed to perform complex inspections and maintenance work on its frames and foundations to greatly reduce human risks. In the world of aquaculture, the drone is able to fly out to monitor its livestock and crops, as well as perform maintenance and repair work through the ROV's multitude of add-on tools. Other marine-based applications include operations involving search and recovery, hull inspections, and various other subsea infrastructures.
With further details of its release coming in early 2022, the 'Sea-Air Integrated Drone' will undoubtedly lead an essential path towards the development of a sustainable ocean economy and the global goal of carbon neutrality.
Visual reference of operations by the Sea-Air Integrated Drone
Additional Vehicle Integrations with the FIFISH
In China's Shandong province, QYSEA has recently teamed up with local technology scientists to debut the nation's first unmanned drone and ship for mariculture operations. Utilizing remote communication technologies, aquaculture farmers and scientists can sail out to farms to monitor livestock and crops from a safe onshore location.
Through the technological collaboration of ocean robotics and artificial intelligence, the unmanned sea vehicle delivers seamless surface-to-underwa
ter control, ultra
-clear and real-time imaging feedback, as well as remote autonomous operational capability. With
fewer required costs, manpower
, and energy, the emergence of compact unmanned ROVs is a great breakthrough in efficiency and sustainability, compared to the traditional methods used in mariculture operations.

The nation's first unmanned mariculture drone and ship makes its sea trial debut

FIFISH PRO V6 PLUS ROV
FIFISH PRO V6 PLUS is a compact sized expert in advanced underwater solutions. With a diving depth of 150 meters, a intelligent interface to add on a variety of add-on tools, and the all-new integration of a Q-motor stabilization system, small-scale underwater operations can be fully optimized.
The FIFISH PRO V6 PLUS delivers 6 degrees of freedom, allowing the operator to achieve any posture and angle of movement. With the intelligent distance and altitude lock systems, the ROV adapts to unpredictable environments to move with boosted stability.


The FIFISH PRO V6 PLUS ROV by QYSEA Technology