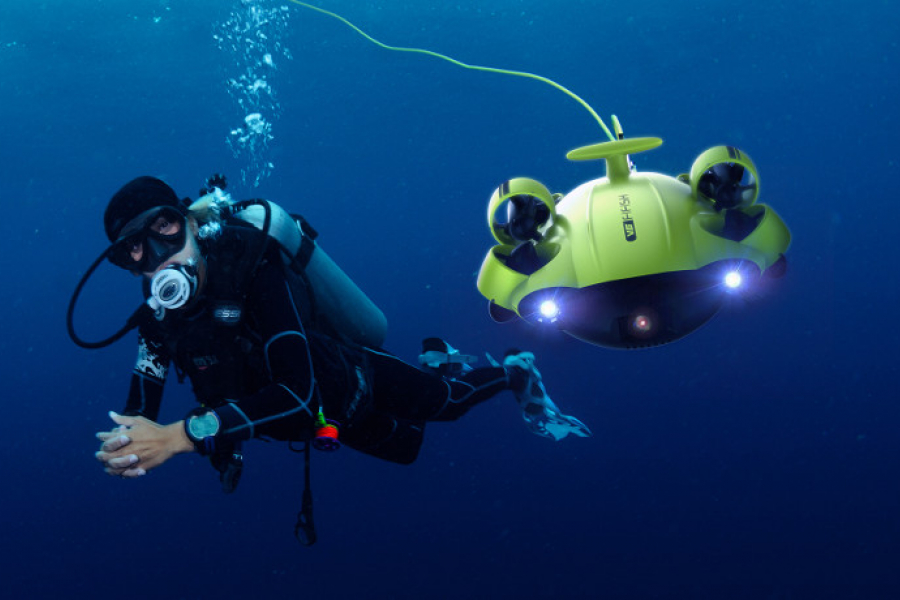 20/05/2019 - The year 2019 is certainly an excellent vintage for underwater drone enthusiasts. New players have appeared making the offering very complete. The consumer will not complain but must be vigilant when making the final choice. Some models are already very successful but newcomers may reshuffle the cards. The company QYSEA, which had already made a strong impression with its drone FIFISH P3, is among those with its new model: the FIFISH V6. This new submarine UAV revolutionizes the way of moving in the water. Imagine doing U-turns, rotations, full laps or other loops. Let's take a look at the possible features.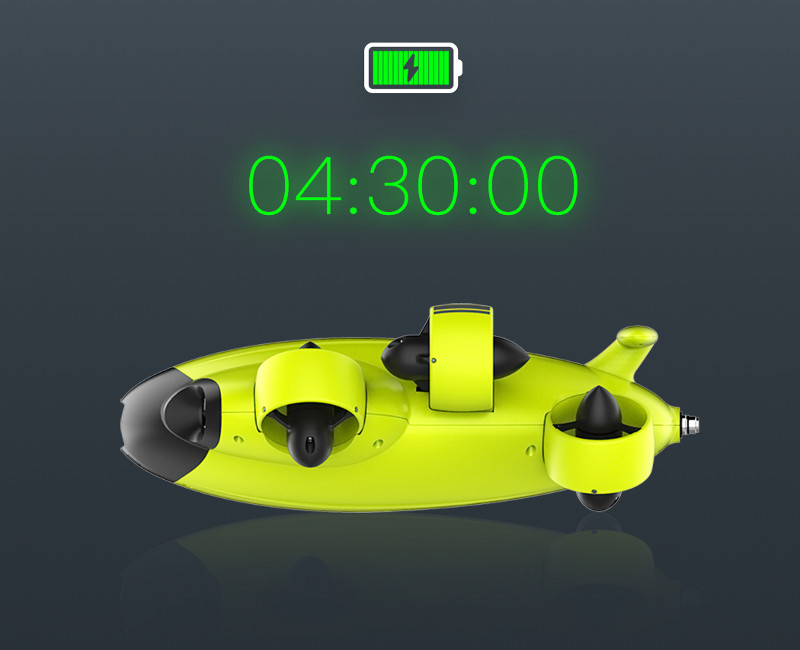 Key Features of the FIFISH V6 Submarine Robot
6 thrusters for great freedom of movement
The FIFISH V6 Submarine Robot is an improved model of the FIFISH P3 with 6 thrusters against 3 for the latter, which gives it total freedom of movement. Is it enough, to make it one of the best underwater drones on the market? Yes and it is, by the way, clearly its main advantage over the competition. With 6 thrusters, the FIFISH V6 can move sideways, forward, backward, up, down, as well as roll, pan and tilt. In addition, you can also combine different movements, such as bow, dive nose or spiral.
360 degree tilt
The V6 offers great rotational stability while performing 360-degree
Position Lock
One of the most interesting features of the FIFISH V6 is position locking. This feature consists of tilting your underwater drone (e.g. at 45 °) and then locking this position. You can now move the V6 freely in the desired direction keeping these settings.
Social networks
FIFISH V6 offers video sharing on social networks including live streaming.
Powerful lighting
If you want to explore the deep sea, evolve in low visibility or even at night, the FIFISH is equipped with 2 powerful headlights of 2000 lumens each. You will have a total power of 4000 Lumens to find your way.
4K camera and high resolution
One of the strengths of FIFISH V6 lies in its video modes. Thus, apart from the exceptional 4K quality with 30 frames per second, you will be able to shoot in 1080p with an impressive resolution of 120 fps to achieve great slow motion. FIFISH V6 also uses an underwater image algorithm that improves color rendering.



Three modes of control of the marine drone
As a drone pilot, the FIFISH V6 offers you 3 flexible ways to control it: Attitude mode designed for beginners that helps stabilize depth in one click, Sport mode designed for advanced drivers. It offers custom control applications and creative shooting functions, The head tracking mode that results in a control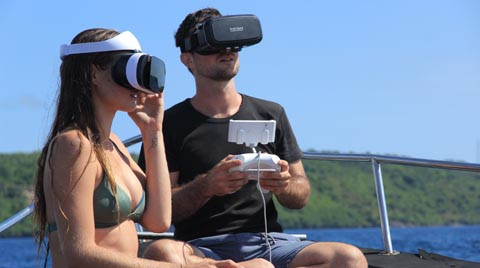 Who is FIFISH V6 for?
The FIFISH V6 underwater drone is suitable for a wide range of consumers:
Underwater Photographers: With the ability to photograph in all angles, the FIFITH V6 offers the opportunity to produce creative and revolutionary underwater images.

Yacht Owners: In addition to entertaining family and friends, they will be able to inspect, without getting wet, the hull of their boat.

Search and Rescue Teams: Underwater drones help in the search and recovery of objects in dark places and in difficult conditions without real time and decompression constraints.

Fishermen: Discover a new fishing spot and list the different species, this is a tool that should appeal to fans of this practice.

Sunday explorers: Discovering what lies beneath the surface of a lake, a pond, a river or just by the sea is a now accessible dream. Finally, the FIFISH V6 may be suitable for a wide audience who will accept the condition, which is not a simple detail, to pay approximately 1700 €.
Fifish V6, Technical Specifications
Dimensions
: 38.3x33.1x14.3cm
Weight
: 3.9kgkg
Maximum depth
: 100 meters
Temperature resistance
: -10 ° to 60 ° C
Movement speed
: 1.5 m / s
Battery
: Up to 4 hours
Fast Charge
: 1 hour
Length of the wire
: 50m (standard)
LED 4K UHD
: 3840x2160 25 / 30p
FHD
: 1920x1080 25/30/50/60/100 / 120p
HD
: 1280x720 25/30/50/60/100/120/200 / 240p
12 megapixel image resolution
: DNG (RAW)
LIVE-Streaming
: 480P / 720P
Objective
: FOV 166 °, fixed focus
Image Sensor
: 1 / 2.3 SONY CMOS
Video Format
: MP4 (H.264 / H.265)
ISO range
: 100-6400 (auto / manual)
LED
: 4000 lumens
Storage
: Dual storage (internal memory and smart devices)
SD Card
: 32 GB standard (optional up to 256 GB)
What is the price of FIFISH V6?
Rest assured that the price is THE good surprise of this release. Including between € 1600 to € 1800 depending on the options chosen, the FIFISH V6 offers a very affordable price considering its number of innovative features. An important argument that should appeal to future buyers.
Should I buy this underwater drone?
With 6 thrusters, a underwater drone 4k camera, a 166-degree view of the field, complete freedom of movement, a posture lock, 4 hours of autonomy, a powerful 4000 lumens lighting and an attractive price, the drone Marine FIFISH V6 is clearly one of the 2019 key model.
You are the lucky owner of one of these drones and would you like to share your experience and your opinion? Do you think there is a better underwater drone on the market? Share your comments.