As the country pays more and more attention to issues surrounding energy conservation and environmental protection, wind energy has garnered growing importance as a clean and renewable global power source. Under China's '30·60' decarbonization goal, renewable energy -especially wind power- is on course to become the nation's mainstream energy source, a vital path in lowering carbon emissions and eventually achieving the goal of carbon neutrality.


01 World Leader in Offshore Wind Energy Development
Incentives to innovate, tax reductions, financial subsidies... the implementation of these support policies and measures have led to the comprehensive recovery of the nation's marine-based economy. In particular, the rapid development of marine-based energy sources has become an essential pathway in achieving China's dual-carbon goals.
To achieve carbon neutrality, we must first reduce the use of coal-based thermal power in exchange for clean and renewable energy sources, such as solar, nuclear, wind, and hydro power.


Offshore wind power essentially relies on natural winds to generate energy.
In recent R&D breakthroughs, the implementation of a smart grid is one of the technologies which will help the wind industry to effectively use wind power plants and reduce the cost of operation and maintenance, with the first domestic intelligent wind farm being connected to the grid in the Jiangsu province.
China has become the world's second-largest wind power market in recent years. According to the latest data, the country's new offshore wind power capacity has led the world for three consecutive years. As of the end of June 2021, the cumulative installed capacity of offshore wind power throughout the nation has exceeded 11.1 gigawatts. The International Energy Agency predicts that China's installed offshore wind power capacity will be equivalent to that of the EU by 2040, and where emission reduction capabilities will be further improved.
02 Challenges in Traditional Operational Methods of Offshore Energy
As an emerging industry, offshore wind power is almost is limited in terms of a solidified guide to underwater operations and maintenance. After the rush to install many of these structures in recent years, there will inevitably be various structural problems that will appear. Only through frequent professional inspections and assessments is it possible to maintain the structural quality and avoid any major issues.
Offshore wind power operation and maintenance tasks are mainly divided into inspections of monopile frames, pile foundations, structural scours, submarine cables, and more. The traditional method of assessments would mainly involve sending divers into the dark and narrow spaces to operate, which is costly, timely, as well as risky.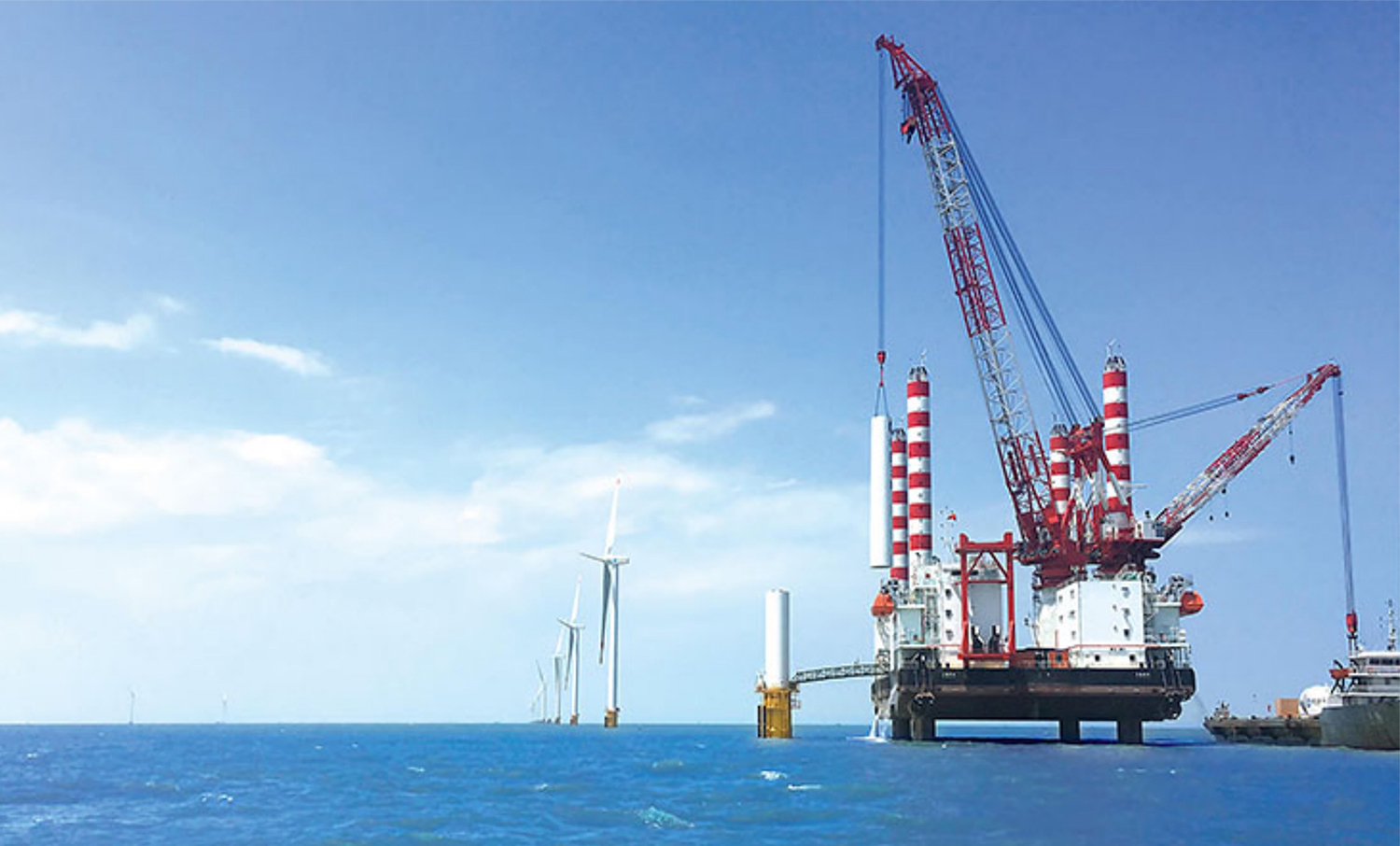 Main Factors & Challenges of Traditional Operating Methods

Environment: The underwater working environment is complex and unpredictable, resulting in potentially harmful risks for divers during their operations.

Time: In addition to human risks involved, the time and energy required for each dive are not optimal and likely to result in delays and added costs to the project.

Data: At present, underwater construction operations are lacking real-time feedback visualizations and data collection systems. In addition, the ability to make collective decision-making is limited.


Led by QYSEA, the industry has seen underwater robots are equipped with high-definition cameras and sonar systems to provide first-hand information for workers onshore to help assess the engineering accuracy, improve the engineering efficiency, and reduce construction costs of the project.
03 Heavy Duty Capabilities: Breaking Through the Waves & Industry Barriers
A Multifunctional Enterprise Class ROV Platform


FIFISH PRO W6 is an industrial-class ROV platform, equipped with an all-new powerful and patented Q-Motor system, a diving depth of 350 meters, powerful operating features and tools, as well as intelligent stabilization systems against strong currents. The W6 uses an innovative modular design and interface that enables seamless attachments, replacements, and removal of parts and accessories for a range of industrial underwater applications. Operate with power, precision, and efficiency.


A new benchmark in industry-level underwater robots, FIFISH PRO W6 has unparalleled advantages in its compact size, long-lasting power and expansive capabilities.
Safety: With a water depth of up to 350m and a speed of up to 4 knots, underwater operations can be carried out onshore with high safety, stability, and precision to avoid the high risks of physically working in harsh subsea environments.

Efficiency: With a water depth of up to 350m and a speed of up to 4 knots, underwater operations can be carried out onshore with high safety, stability, and precision to avoid the high risks of physically working in harsh subsea environments.

Robust & Reliable: The ROV body adapts a carbon fibre bracket structure, producing a light and rugged build. The power and communication cable is made from a rugged Kevlar material, with the ability to withstand a pulling force of up to 200kg.

Expansion of Capabilities: FIFISH adopts and streamlined and modular design-build. The FIFISH is equipped with a range of professional-quality accessories, easily attachable with the ROV's Q-interface ports, and suitable for a range of industries and applications
The FIFISH PRO W6's 3D Station Lock algorithm is an adaptive and intuitive system, locking the ROV position underwater and precisely returning to its locked position against any interferences from the underwater environments. Execute and deliver inspections with exceptional stability, smoothness, and precision.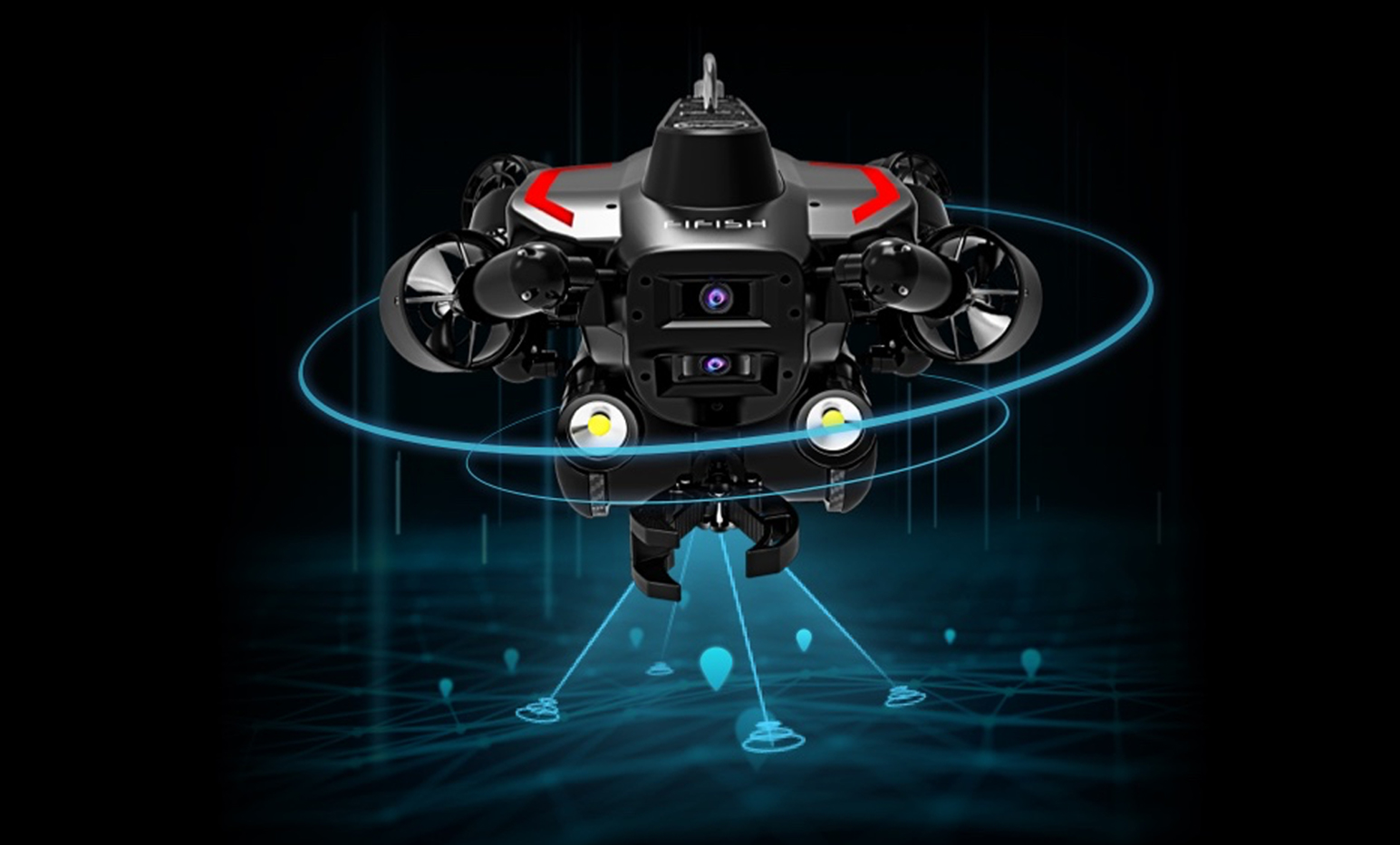 FIFISH PRO W6's Dual 4K Camera System delivers an ultra-wide field of view, facilitates greater efficiency for inspection tasks, as well as provides operators a complete picture of the surrounding underwater environments. The system allows for comprehensive inspections to be performed and, with the FIFISH patented software, the collection of a great range of data beneficial for professional organizations and teams.

An Effective & Integrative Solution

1. The FIFISH is equipped with optical, acoustic, and water quality sensors to systematically inspect and assess pile foundations, structural scours, and underwater cables;
2. Respond promptly to emergencies, work underwater for prolonged lengths, complete subsea inspections quickly and efficiently;















3. In routine inspections and maintenance operations, FIFISH's multi-dimensional sensors provide comprehensive visual data of depth, terrain types, erosion level, structural sizes, and more.
















QYSEA is committed to using technological innovations to elevate the ways we explore and operate in the oceans. Founded in 2016, QYSEA has since become an industry leader in the field of underwater robotic technologies, autonomous precision control systems, and artificial intelligence. The brand has redefined how the world views the 'Made in China' label with its advantageous functionalities and build quality.