5G + Ocean Ranch Successfully Applied! FIFISH AI Underwater Robots Boost Asia's Aquaculture Industry
In recent years, with technological advancements, China's smart ocean construction has been rapidly developing. Currently, it is driving the digitization, greenification, and intelligence upgrade of traditional marine industries. QYSEA Technology is leading the way in this era and, in collaboration with partners like China Mobile, has combined AI-powered underwater robots with 5G networks to launch the new "5G+ Ocean Ranch" intelligent farming solution. This leverages the power of technology to initiate a new era in offshore farming and support the development of the marine economy.
Disrupting Tradition, Real-time 5G Remote Technology
QYSEA Technology, in close collaboration with partners such as China Mobile, has ensured robust network compatibility for QYSEA's FIFISH underwater robots, fully adapting them to China Mobile's 5G network signal. In operational scenarios, the FIFISH underwater robot seamlessly connects to China Mobile's network channel without requiring additional network adjustments. Leveraging the characteristics of 5G network solutions such as high-speed and low latency, operators can control the FIFISH underwater robot from data centers or on land. Through 5G remote monitoring and control technology, comprehensive observation and recording of offshore ranches can be achieved.
In Sando Town, Fujian, which is the core production area for large yellow croaker aquaculture in China, over 80% of the country's large yellow croakers are produced here. For many years, traditional cage aquaculture has been employed, with manual diving observation, maintenance, and net lifting being the primary means of cage monitoring and management. This operation method not only incurs high costs and low efficiency but also presents significant challenges to the physical and mental health of underwater workers.
According to the head of the fish farm, a skilled underwater robot operator can complete extensive farm observation and inspection tasks within a day. There is no need for divers to go underwater; instead, image sensors carried by the FIFISH underwater robot provide data that is rapidly transmitted back to land via 5G networks with an ultra-low latency of only 0.1 seconds. This data is then identified and processed in data centers, making the process highly efficient and convenient.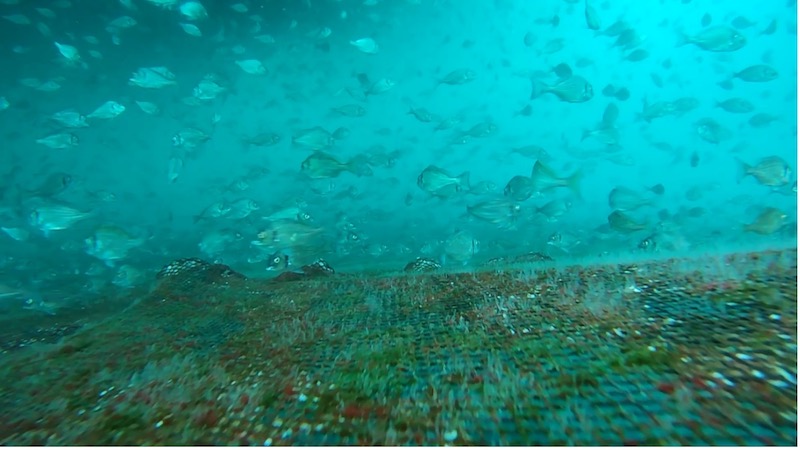 Through the new "5G+AI intelligent underwater robot" solution, local fishermen can not only monitor cage conditions in real-time and efficiently perform underwater tasks but also save costs amounting to millions of yuan.
AI Empowerment, Unmatched Capabilities
In the offshore ranch of Sando Town, Ningde, the robot used by the staff is the QYSEA FIFISH Underwater Robot. It features a streamlined appearance and compact size.
Unlike other bulky underwater robots, FIFISH Flying Fish boasts remarkable underwater operational capabilities, suitable for professional-grade underwater tasks. FIFISH Flying Fish's robust AI capabilities bring intelligence to underwater ranch operations. QYSEA Technology's self-developed AI de-fogging algorithm, through AI calculations, provides operators with a clearer view of the fish farm environment. The AI visual locking function automatically counters the influence of ocean currents, maintaining the robot's stability and assisting operators in locking onto underwater targets. Additionally, QYSEA Technology has introduced an industry-first AI fish quantity recognition feature that uses powerful AI computing capabilities to intelligently identify the quantity of fish in the image, significantly improving aquaculture efficiency.
In terms of scale, the offshore ranch in Sando Town is extensive, with a large number of cages closely arranged. Large, traditional underwater robots struggle to operate effectively in this environment. However, the compact 4kg size of the FIFISH Flying Fish allows it to move freely between the cages, observe cage conditions in a 360° non-obstructed manner, and help aquaculture personnel quickly grasp underwater information.
Furthermore, the FIFISH Flying Fish is equipped with a 4K ultra-clear camera, capable of capturing 4K ultra-clear underwater images. Compared to traditional underwater robot 1080P images, the FIFISH Flying Fish's image clarity is increased fourfold, allowing for detailed observations of cage conditions and providing exceptionally clear underwater visuals.
The FIFISH Flying Fish also possesses strong expandability, as it can carry underwater tools for various tasks commonly used in aquaculture. Mechanical arms and grippers can be easily operated to retrieve items from the water. Fishing nets can be used to retrieve dead fish carcasses, preventing larger-scale infections in fish populations. Net repair tools can assist fisheries personnel in repairing cages and plugging leaks, helping to recover economic losses for offshore ranches. Additionally, it can be equipped with water quality detectors for rapid assessment of water acidity, alkalinity, and enrichment, providing great convenience to aquaculture operations.
FIFISH AI underwater robot aquaculture solutions are going global. Two years ago, QYSEA's FIFISH underwater robot achieved real-time remote control of underwater operations via 5G for the first time worldwide. In April 2021, QYSEA Technology joined forces with Japan's largest carrier, Docomo, to remotely control FIFISH underwater robots at remote fishing grounds using the QYSEA AI edge computing box, connected via 5G/4G networks. They achieved 4K-level ultra-clear image transmission with ultra-low latency, transmitting underwater imagery from Hiroshima's remote fishing grounds to a data control center in Tokyo in real-time. This facilitated the rapid assessment of fishing ground changes and provided a scientific basis for decision-making by aquaculture personnel.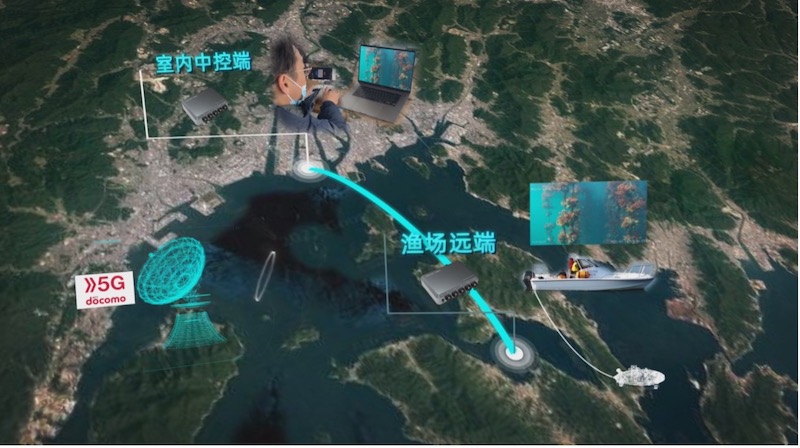 In practical applications, the "5G+ Ocean Ranch" can simultaneously achieve remote control, remote monitoring, remote measurement, remote sampling, and a series of other operations, integrating multidimensional functions into one, bringing unprecedented convenience to the aquaculture industry. This case has been successfully implemented in marine aquaculture farms in Japan, significantly improving local farm decision efficiency, reducing operational costs, and achieving "double harvest" of reduced costs and increased efficiency!
FIFISH Underwater Robot aquaculture solutions have been successfully applied in cases such as AFE in Australia, pearl farming in Alaska, and salmon farming in Norway, bringing about a new level of upgrade in aquaculture. QYSEA Technology's underwater robot actively explores the new "5G+ Ocean Ranch" track, accelerating the integration of 5G with the marine industry, leveraging technology research and development to support a new ecological model for aquaculture, providing convenience and new opportunities for aquaculture, and propelling China's marine economy toward high-quality development!