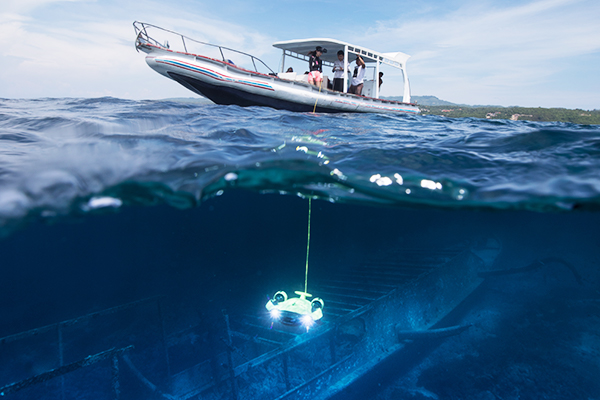 The all-new FIFISH V6 is a technological breakthrough with the
consumer underwater drone
market, offering users astounding freedom in underwater movement with its patented 6 vector thrusters, along with an unbeatable 4K UHD video camera system.
And we're only getting started with our countless incredible features! To highlight its distinctive capabilities, we are sharing 6 unique and inimitable ways to capture truly amazing underwater footage with our ROV, just in time for the summer season!
1. Scenes Deserving the Big Screen.
Who doesn't love epic one-shots with smooth and continuous angle variations? Make the filming sequence you've always dreamed about come to life!
FIFISH V6's six thrusters arm you with the ability to move the way you want underwater the aquatic depths. Omni-directional and all-capable, rotate in an arc and ascend around your subject to capture amazing content from all sides. Move towards your subject in a 360 ° roll to capture the particular tone of fun and excitement that you set out for. V6 gives you full control and ability to dictate and create the cinematic shot you truly strive for. Recreate amazing shots and sequences only found on the big screens!
2. Up Close & Personal.

Shot with 4K quality at 30 frames-per-second, FIFISH V6 delivers top-notch equipment necessary for you to capture the under world's smallest and most beautiful details. Get a chance the see the unique patterns and textures of the vibrant fishes and alluring coral reefs on a personal and intimate level.
3. See the Bigger Picture.
Ain't no ocean wide enough for the V6! Equipped with a 166° field-of-view wide angle lens, you get an incredible tool capable of capturing the vastness of the ocean terrains as well as for filming giant majestic marine mammals such as manta rays, whales, and much more!
With all our camera has to offer, our LED's deserve a fair share of the spotlight as well. V6 is paired with two ultra-bright 2,000 Lumen LED's that not only complement our incredible camera system but showcases the ocean world for you in a whole new light for your capturing needs.
4. Let's Take it Slow.

There are very few shots more epic than a cinematic slow-mo. The FIFISH V6 offers incredible slow-motion capture in 1080 Full-high-definition and at 120 frames-per-second, making your moments twice as long and unforgettable. With this amazing tool, capture more excitement out of a single scene. Create the uniquely dramatic and cinematic tone in your footage for your diving adventures and interactions with marine life.
5. Bring on the Action

The V6 handles all your speedy and action-packed filming shots without a hitch! The V6's built-in image stabilization system guarantees smooth footage as you glide and race across the ocean currents. Capture the exciting underwater moments you've always wanted; soar alongside Manta rays and chase a school of fishes with finesse and clarity.
Our Quickshot mode is a game changer that helps capture your action-packed aquatic moments. Capable of taking up to 15 images per second, immortalize your most important moments in detail.
6. Become One with the Drone

Warning: this feature may initially cause you to hold your breath as if underwater due to immersive realism.
In what may be the most entertaining way to capture footage with the V6 is with our exciting and immersive VR mode. Our VR box, which complements the drone's overall smart controls, transports you into the ocean depths inside the eye of the drone. See the oceans in 360° degrees and capture footage as if you're swimming alongside the ocean landscapes and mammals.
The VR box's head tracking function provides an extra level of impressiveness that gives you full control of the drone's rotation with a slight turn of the head. Swim and film in whichever direction you look, and have the dive your life!
We hope these several tips are able to inspire your further to continuously explore above and beyond limits. FIFISH V6 helps unleash the filming creativity and potential inside and all of us! Omni-moving, highly-equipped, durable, and efficient, V6 can be the ultimate machine for your all your sea-nematic filming needs.
Please stay tuned, as more updates are coming your way!